Chigo Won the Title of"CHINA Top 10 Air Conditioning Machines Export Companies"
On December 23, the 8th"China Electronic & Household Appliances Business Forum and the Launching Ceremony of China's Top 100 Electronic and Household Appliance Exports in 2020" were held in Shunde Foshan, "Hometown of Household Appliances in China". At the forum, the 2020 list of China's top 100 electronic appliances exporters was released. With its outstanding performance in comprehensive export, industry contribution, brand building, business scale, and social responsibility, etc., Chigo was honored as "CHINA Top 10 Air Conditioning Machines Export Companies", which reflected the praise and affirmation of Chigo from consumers.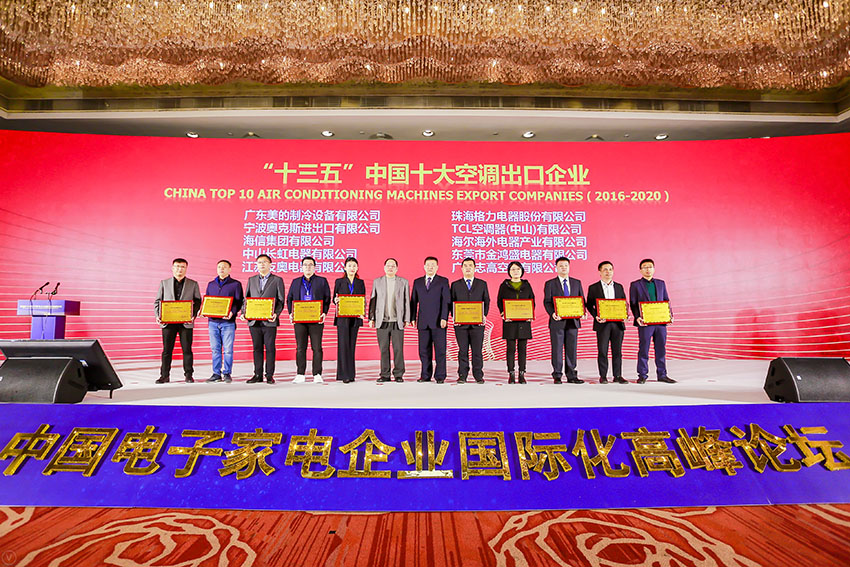 To implement the implementation opinions of the General Office of the State Council on promoting the innovative development of foreign trade, and cultivating new advantages for participating in international cooperation and competition under the new situation, it is reported that the forum takes "digital dual circulation, sailing" 14th five-year Plan "as the theme, to explore the global competition situation under the new pattern of the digital economy and" dual-circulation ", and to exchange the" going global "mode of electronic appliance industry in the post-epidemic era. Representative enterprises in the industry were also invited to share their experiences and deliver keynote speeches.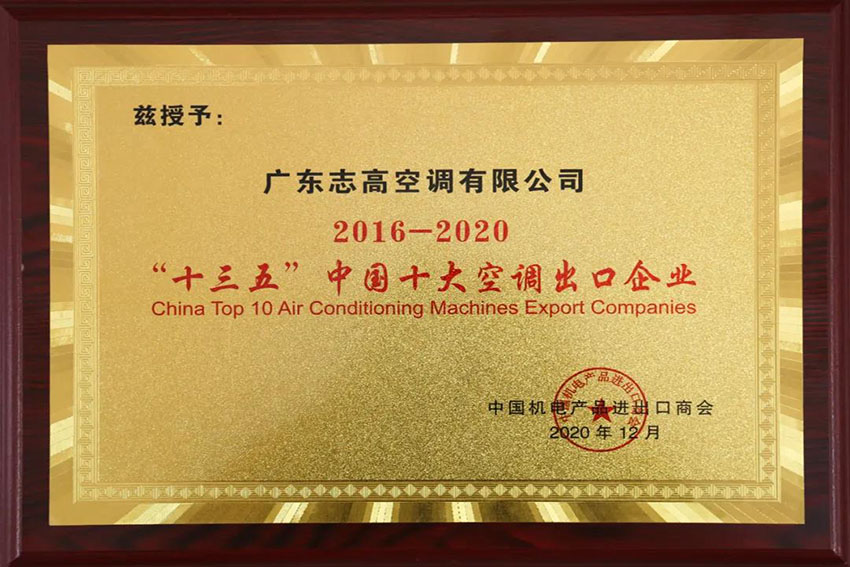 In 2020, thanks to the effective measures of epidemic prevention and control, active resumption of work and production, ensure foreign trade, Chigo actively embraced the new form and unlocked the new mode of foreign trade, The two well-prepared online Canton Fair have received high attention and positive response; In the meantime, it successfully passed the re-certification of "Customs AEO Advanced Certification", a VIP card in international trade, which also reflects Chigo's long-term pursuit of enterprise strengths such as quality, law-abiding operation, and standardized management.
Over the past 20 years, Chigo has become the backbone of the global air conditioning brand. The air conditioning developed by Chigo has become an increasingly significant international label with its differentiated advantages in energy efficiency, intelligence, and health, etc. With the arrival of a new round of quality upgrading opportunities in the air conditioning industry, Chigo will continue to expand overseas market and accelerate the pace of internationalization based on its business strategy, which will surely open up a brand-new future!